Royal yurt
With a diameter of 9 m and a total area of 66 m2, the Royal Yurt forms the heart of our village. During the week during the school year, it functions as a base for the Forest Club we run, working with parents interested in alternative education for their children. The Forest club is part of a broader educational concept, which combines preschool education with elements of small-scale cultivation and breeding (mini-farm) and natural garden with educational potential for further education of children and adults, which serve as a background for group and individual stays.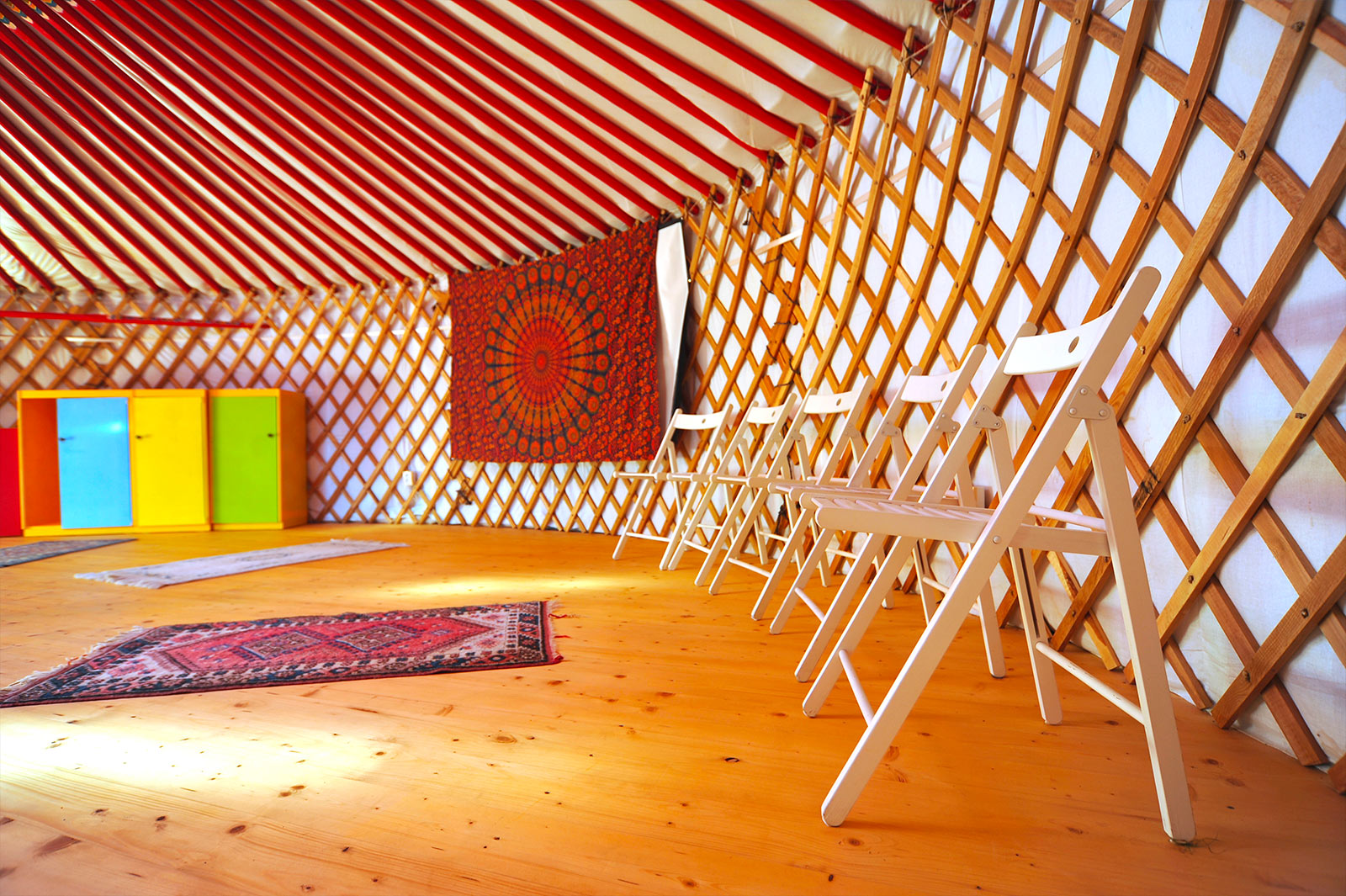 Royal yurt
The capacity of the royal yurt is 5-16 persons.
Diameter 9 m, floor space 66 m2
On weekends and holidays, the yurt serves us. Mainly to accommodate a large number of people who do not desire the comfort of their own bed and are satisfied with having a roof over their heads and a dry and flat floor underneath. It can sleep up to 16 people in its own sleeping bag. The yurt has one shared toilet with shower. Outdoor stainless steel sinks with running water can also be used for morning hygiene. For the more adventurous and environmentally minded visitors, we also have a bathhouse with a composting toilet:)
In addition to accommodation, the yurt is perfect for corporate or private events. You can organize a training course for IT specialists, a bartending course or a birthday party. We are not opposed to any other use. We are willing to consult your requirements and meet them. 
We are able to adapt and adjust the yurt according to our possibilities for:
corporate training and presentations
educational seminars and workshops
yoga or other exercise classes
meditation and spiritual meetings
family celebrations, christenings, weddings and other festive events
Anything you can think of that we will agree to
You won't freeze in the yurt even in winter, it is equipped with heating like the others and insulated against the cold with a coat of sheep's felt. The Royal Yurt is only fully available for accommodation during the summer holidays.